Funeral Live Stream Experts
With a professional funeral or memorial live stream service, there's comfort in the knowledge that those unable to attend can watch online and still have the opportunity to say goodbye.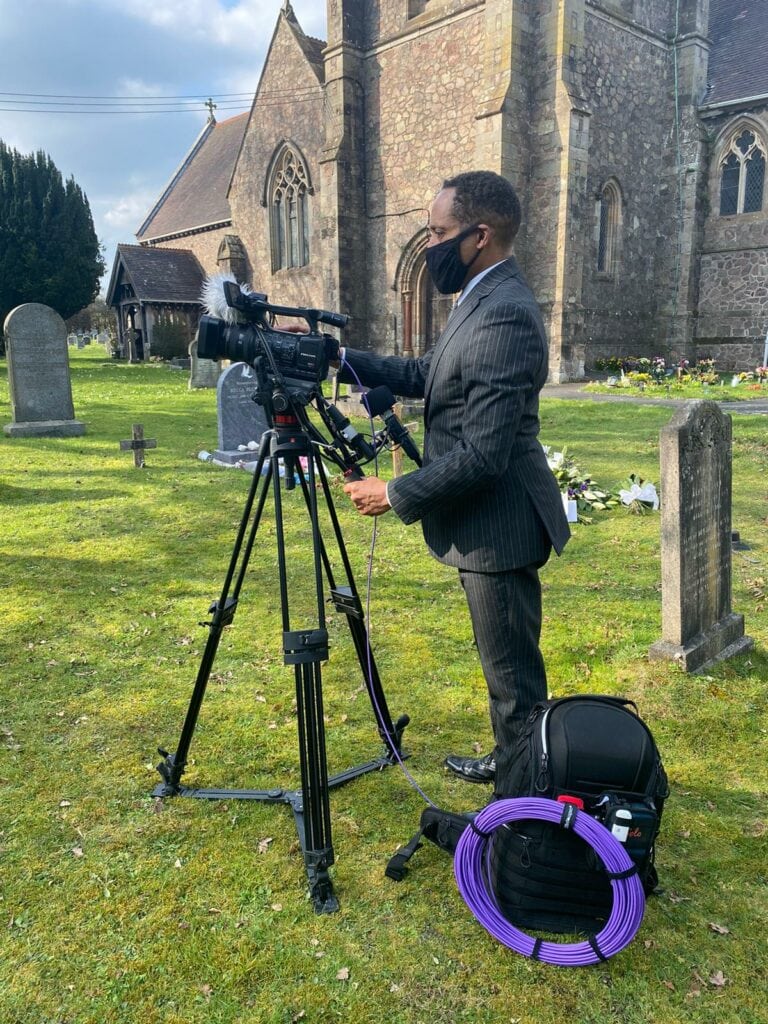 We've brought our 15 years of live streaming expertise to help hundreds of families stay connected difficult time of losing a loved one. Our respectful team, private platform, professional grade audio visual equipment will ensure a seamless funeral live stream.
Having produced over 450 funeral webcasts in the last 12 months alone, you cant have comfort in knowing that you're in good hands. 
All of our streams are viewable worldwide, have unlimited viewers and are available for you as soon as the service is over. 
Funeral & Memorial Live Stream Services Available
Share the funeral of a loved one in real time via a live video link with friends and family, wherever they are in the world
STREAM IT YOURSELF
Bespoke 'Viewing Room' featuring photos, funeral details, eulogy and more.

Stream from your mobile phone, tablet or laptop

Stream from as many locations as you want

Control over your content

A copy will be saved to the device that you stream from

Unlimited viewers and viewable world wide

Private viewing link on our dedicated site with optional password protection

Licensed so any music picked up by the stream will not be in breach of copyright laws

Optional USB, DVD and downloadable copies are available following the service
PROFESSIONAL PACKAGE
Bespoke 'Viewing Room' featuring photos, funeral details, eulogy and more.

A full HD broadcast quality camera manned by one of our livestream professionals

Up to 5 separate microphones. These provide clear audio of the celebrant, any speeches and music.

Unlimited viewers and viewable world wide

Access to a private viewing room containing the livestream, a link to the Order of Service, photo gallery and a way for those viewing to leave tributes

Available for as long as you want and you will receive a downloadable copy of the service

Licensed so any music picked up by the stream will not be in breach of copyright laws

Stream from additional locations (price upon request)

Optional USB, DVD and downloadable copies are available following the service
We would like to offer a 5% discount on all our funeral live streaming services to anyone serving in the Armed Forces, Veterans and NHS staff.
All funeral live stream services depend upon a reliable 4G connection, however, we do use the latest in mobile bonding technology to achieve maximum up-time. If there were to be an interruption to the funeral live stream, we do also record the video to the camera and can upload the content immediately after the service to the private video link.
With a team across the country, we can provide funeral streaming at any location in the United Kingdom including, but not limited to London, Edinburgh, Leeds, Cardiff, Kent, Manchester, Birmingham, Sheffield and Newcastle.
Excellent professional service considering the short notice provided – 1 day before the funeral. The live stream worked perfectly and our relatives who could not travel were really appreciative. Also to have the option to watch the service again is definitely something worth treasuring.
I just want to thank you for providing and absolutely outstanding livestream for my Dad's funeral this morning. We projected it on to a big screen and it felt like we were there. I couldn't recommend you highly enough! Thank you.
I'd like to thank your team for a very professional coverage of my father's funeral. Especially at so short notice. Due to Covid, many relatives and friends could not enter the UK, and therefore live streaming was our only option. Scattered in many different locations, both UK and abroad, we were all amazed by the quality of both sound and picture. I connected the live-stream to a big screen, then it felt I was actually in the Church. Several I've spoken to since, have said the same. I can't thank you enough.
Thank you from us all for a very sensitive and professional service both from yourself and the cameraman, Stephen. We have had lots of very positive feedback about the livestream and it was great to relax confident that everything was under control. The day went without hitch and that was partly due to the professionalism of yourself and Stephen. Thank you both. My husband and I have already recommended you to friends and colleagues. Thank you again.
I am extremely appreciative and grateful to Funeral Streaming for the highly professional and sensitive service they provided our family for our father's cremation. Their approach is very unobtrusive but nevertheless very helpful and supportive. I am particularly grateful for how accommodating they were in meeting our needs – they were really sensitive to the minority ethnic background of our Vedic dharma sacrament. I recommend them very highly indeed.
Dear Ryan and Ben, Many thanks for the exceptional service you provided in streaming the funeral of my sister. With Covid restrictions severely limiting the number of people that could attend the service in person, being able to have so many of her family including a very large number from overseas, colleagues and friends still participate via the streaming was invaluable. Your guidance on technical preparations, overall flexibility and very prompt responsiveness to my questions and requests was quite simply first rate. I would have no hesitation in commending your services to others. Many thanks again.
We cannot thank you enough for the unbelievable job you did streaming Sybil's funeral. It was effortless for our family to watch from all around the world. Your cameraman was all set up before we arrived. He was very discreet. We barely noticed him. From start to finish your professionalism has shone through. I would not hesitate to recommend you to anyone who needs a streaming service. We will never forget how much you helped us at this difficult time.
Like many other families in 2020 we were faced with the challenge of organising a Covid safe funeral whilst starting to come to terms with the loss of our Mother. Despite the constraints imposed by Covid this companies mobile video broadcasting service allowed our family and friends to commemorate our Mothers life and lay her peacefully to rest. From our first contact with Ben all the arrangements went smoothly. On the day cameraman Stephen arrived smartly dressed, and setup his equipment in good time. The church had no internet connection but his special equipment that used the mobile phone network allowed live coverage from the church and cemetery to family and friends in the UK and overseas. We have no hesitation in recommending this company for any occasion where a highly professional and personal broadcast and recording service is required. Thank you.
Just wanted to say thank you to you and the team for doing such a great job of live streaming Dad's funeral last Friday. We had people 'joining us' from around the globe and had lots of feedback about how great the quality of the coverage was. No mean feat in an area where the phone signal is notoriously poor. We were completely reassured that all would be set up and to be honest, I was not even aware that you were there on the day – completely unobtrusive. Communication was fantastic and quick, but no unnecessary emails / calls at what was a busy time for us. Would be happy to recommend your services.
Live streaming my husband's funeral felt like a strange idea but it was the best decision we made in these incredibly difficult Covid circumstances. Friends and family from near and far were able to join us and we have received so many messages about how much they appreciated that opportunity, especially as Mark died so suddenly. Everything was very professionally and sensitively managed and the quality of the recording was excellent. I would never have thought I would want to watch it again, but I think I will. I would like to hear the eulogy and homily again. Thank you so much Ben and Ed.
Thank you so much for the finesse with which you enabled the wonderful (name removed for privacy)'s funeral live stream. I am in Brazil, and was able to watch and really feel like I was there. Everything about your approach is comforting. The views over the countryside were perfect and absolutely fitting. The sun, the butterflies and birdsong. The sound and the general smooth running. Thank you.
I wanted to send you my absolute sincere thank you for the amazingly top job you did streaming my beloved dad's funeral. My heart ached at not being able to attend and being stuck in Australia is like nothing I've ever felt before. My dad was my world. The live streaming was just perfect, I have no other words for how well it went. I had another company cancel on me last minute and you stepped in – like an angel in disguise! You did a Brilliant job Ben, all the family present have said what a fabulous guy you are, friendly, discreet and awesome. So thank you. Thank you from the bottom of my heart. You made me feel as though I was there and I would vouch for you to anyone for funeral streaming.
We made a relatively last minute decision to use a professional funeral live streaming service for the funeral of my sister-in-law this week; only making contact with Ben from Funeral Streaming on Friday evening 17th July, less than 3 working days prior to the funeral. Everything about the way they engaged with us was utterly professional, and we very quickly felt in safe hands.  Ben rang the church to clarify where they'd be able to film from, on the day Ben was properly dressed, courteous, and had uploaded photos and the order of service to the live streaming site in advance.  And most of all the quality is fantastic; and so much better than we could have achieved with an iPad on a tripod.  We've had so many positive messages about it. And moreover, what started out as a way of allowing people who couldn't attend the service (with funerals still restricted to 30 people) has become a real feature and focal point for friends of my sister-in-law, with so far 24 of them leaving tributes on the site. I can unhesitatingly recommend them. Ben
My family were apprehensive about having my father's funeral live streamed, but it was the best decision, despite the incredibly hard situation. Ben was so discrete, professional and understanding.  He answered every question, and made the day so much easier to bear for the family and friends who couldn't be there to celebrate my father's life.  The live funeral streaming was watched by those in France, Canada and UK without any delays or hitches. Ben was also so quick at sending us the extremely high quality footage, so that we too could watch afterwards.  I can't thank Ben enough for being there on what was, although a painful day, a peaceful day with dad being there very much in spirit.
We had great communication and service from both Ben and Matthew. Our family are also very pleased with the service provided which allowed family and friends from far and wide the ability to watch. We highly recommend the live streaming service
The family were very impressed by Ben and Matt and funeral streaming. The communication ahead of mum's service was excellent and we were pleased with the ability to load the Order of Service and have an online space for mum's friends and family to leave tributes. Friends and family in the UK, Ireland, USA and Australia were impressed by the quality of the live stream and the immediate family were able to watch a rerun together after the service. We decided to pay by credit card as obviously we had never heard of the business before using them and wanted some payment protection. But we had no need to worry and can thoroughly recommend them. We had lots of comments about how personal the service felt which was of comfort in these unusual Covid-19 times.  Thank you so much Ben and Matt
Thank you so much Ben, you have been amazing to relate to and you have supported, answered questions and accommodated requests.  We wanted the funeral streaming to be not just live but natural and interactive and you have done well to deliver it.  People all over the world, 100s of them who watched said, they had a blessed experience and were in full praise for you.  The quality was top class and the service excellent.  Well worth it.  Thank you and would highly recommend anyone.  Many thanks, David
Ben and Matt provided an exceptionally high quality service. During this period of COVID-19, streaming is critical for funerals, to enable people to say goodbye to their loved ones. Their service was extremely professional and discreet, and enabled numerous remote friends and family members to virtually attend, even if they were shielding or were abroad, who would have otherwise not had the opportunity. The film and sound quality was excellent, and both Ben and Matt were incredibly prompt at fielding our numerous questions and customisations, including outside of business hours and at the weekend. Thank you for your services.
Ben and Matt were very helpful in explaining the whole process to ensure everything was tested prior to the streaming on the day. They were also sensitive to our needs and understood that everything had to go smoothly. All our loved ones that could not attend the funeral were able to see the whole proceedings live on the day and we were also able to obtain the video recordings for viewing afterwards. We would not hesitate to recommend them to anyone who requires a self-streaming service or otherwise.
A big thank you to Ben for his professional service, live streaming the funeral for one of our families. The current restrictions around Covid 19 make it incredibly difficult for our families with many people unable to attend. Ben's support allowed many of these people to follow along live through the online stream as the funeral happened and to feel like they were part of the day. Ben was also able to handle a number of difficult conditions, not least of all the rain, to provide a great service. We will definitely make use of this support again - thank you.
Thank you so much for ensuring that the Service for our dear friend yesterday was captured so fully for those watching from their homes. In these tricky times, where attendance at the funeral of a loved one is so restricted, due both to numbers permitted and the need for self-isolation, it brought great comfort to so many to be able to join in the celebration of life of a remarkable lady, as it was taking place. You were so discreet, yet still able to capture the essence of everything that happened, including before the service took place.  I have had positive feedback from people unable to attend, including from abroad, who felt that they were able to be included in this wonderful celebration of a loved family member and friend with a true zest for life.
Although I was at the service yesterday, I have also watched the streamed service and I can imagine that for all the people who we sren't able to be there, it was a huge comfort for them to be able to do that. The sound and film quality are amazing and Matt was so discreet we forgot he was there.
On behalf of my family, I just wanted to say thanks again for making yesterday a seamless experience and for the quality of the service you delivered. We have had lots of positive feedback from the viewers saying that it was great quality and the next best thing to being there in person, great job!! We are still getting comments on the quality of the live stream, so again we thank you for making our Dad's home going so memorable for so many.
Thanks for all of your efforts today. Both on-site(s) plus the work carried out in background keeping the Zoom and livestream running smoothly. I wanted to also relay back some of the positive feedback received from the many people including those based in the States who dialled in. It brought people together. The clarity of the sound was spot on. Conversations amongst the family on Zoom continued long after the ceremony ended. A great experience with the feeling of being included for those unable to attend. Given the circumstances Nanny had wonderful send off. We have no hesitations in recommending your services to friends and family.
A most professional, unobtrusive and respectful filming of our Dad's burial service from this company. Everything was all set up before we arrived and the film was very tastefully shot. Many thanks sent from family and friends who were unable to attend because of these strange times but felt they were there with us. Thoroughly recommend!
Founded by two brothers, our team is here with the aim of making these difficult situations easier. We get everything set up as swiftly as possible to take some of the stress off of your shoulders. Our friendly and professional team will make sure everything is taken care of and handled sensitively.
We've been in the live streaming industry for over 15 years, broadcasting from our own platform and for clients such as BBC Sport and World Athletics. Our full UK coverage and investment in world-class technology means we can confidently stream from any location, so you're in safe hands with us.
You're in control of who can see the webcast using a private website link, with optional password protection at no additional cost. Indefinite playback is also provided as standard, should friends and family not be able to watch live or if you'd like to watch parts of the service back at a later date.
If our funeral streaming FAQ section doesn't contain the answer you're looking for, please let us know how we can help via our contact page or if you would like to make a booking enquiry, please click here.