Professional Service - £495
Our professional service allows you to capture the moments that may otherwise go unseen from the crematorium, church, graveside, or wherever you wish the service to take place. With the current restrictions making an already difficult situation that much harder, we hope to relieve some of that stress. By allowing those who cannot be there on the day, due to circumstances beyond their control, a way to say goodbye. 
As the world begins returning to normal, we know a lot of families are wishing to hold memorials services for their loved ones. Please get in touch if you would like us to live stream the service for you.
We do have some optional extras listed below, however, we emphasise that there are no hidden costs within our service's and everything in our professional package is of high quality.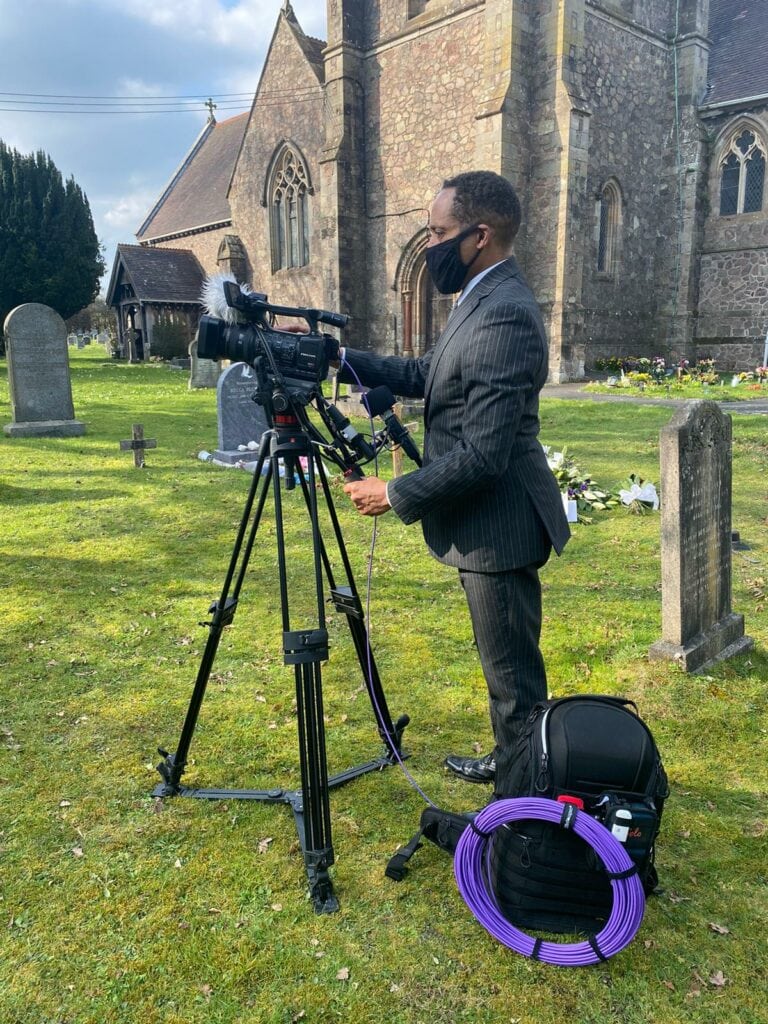 Our standard package includes streaming from a single location, but we can also move with the service to include streaming from your home, place of importance, cremation, church, graveside burial and more.
Every professional package we provide includes:
Stream From Multiple Locations
The passing of your loved one is quite often more than just a singular ceremony. Our Multiple Location service allows you to capture more of the day. Whether that be a religious ceremony at home, a special place of importance, a cremation service, a church service, graveside burial, and so on. Please be aware that a burial in a churchyard would count as a separate location to the service inside the church.
A lot of crematoriums across the UK already provide live-streaming at very affordable pricing. However, these are just restricted to a fixed-camera within the crematorium itself. We understand that a loved-ones send off is often a lot more than that and capturing those smaller details is very important. Whether it be capturing a church service, burial or just getting that more intimate feel, we are always happy to work with the crematorium to ensure we can get the best possible service for those who cannot be there in person. 
Should you be interested in more than 2 locations, get in touch and we can provide you a quote.
If you would like to discuss live streaming options or have any further enquiries, please get in touch by filling out the form below or reviewing our frequently asked questions. We understand this is a difficult time so will do our very best to help fulfil any webcasting needs as quickly as possible.
All live services depend upon a reliable 4G connection, however, we do use the latest in mobile bonding technology to achieve maximum up-time. If there were to be an interruption to the stream, we do also record the video to the camera and can upload the content immediately after the service to the private video link.
All travel above a 100 mile return trip from our location is charged at £0.45 a mile.
With a team across the country, we can cover any location in the United Kingdom including, but not limited to, London, Bristol, Edinburgh, Cardiff, Manchester, Birmingham, Leeds, Kent, and Newcastle.
A bespoke service is available if you would like to investigate a full multiple camera broadcast. Please get in touch to find out more.